Wang Peng is an artist born in the early 1960s. Like most artists born in the same period of time,
he has witnessed and fully experienced the transition of Chinese contemporary art from non-existence to existence,
from being underground to being aboveground, from being outside of the wall to being inside of the wall,
from loneliness to liveliness, from being avant-garde to being fashionable, from impoverishment to richness.
Wang Peng's personal track is also universal to a certain extent, shared among a certain number of Chinese artists.

Wang Peng enacted the very first-known performance work in China, in 1984.
His work is underpinned by a steadfast resolve to challenge the conventions and boundaries of art.

dir / camera / edit: Ling Lee
language: Chinese mandarin with English subtitles

commissioned by TATE Media
---

To be a journalist in China you sometimes need to use a few subtle tricks
to get your stories to print. Sun Hua, an award-winning investigative journalist
for the Jinan Times, knows just what he can and cannot get away with and
how best to persuade his bosses to allow him to continue his work.
He is charming, philosophical but also very determined.

This film follows Sun Hua at work as he investigates a story about possible corruption
by a property developer, seeking out residents' views, negotiating the demonstrations
and dealing with the police. All the time, he quietly considers his position as a
journalist in a complex country that itself is dealing with change.

He dreams of 'fairness, objectivity, truth' but he also knows there are real limits
to what he can do. Yet he continues to push, to persuade and to publish.

This film explores 21st century China as it is challenged by a changing world,
pushed by free-thinkers such as Sua Hua and an ongoing struggle for increasing freedom of expression.

dir: Ling Lee & Ying Cui, producer: Rodrigo Vazquez - Bethnal Films, camera: Ling Lee,
editor: Adam Thomas, composer: Lennert Busch, sound recordist: Bai Yuxun,
translators: Aiqin Lin & Bai Xiangwei, postproduction: VET

language: Chinese mandarin with English subtitles

commissioned for Al Jazeera English Witness

Broadcast on Al Jazeera on the 7th May 2012
Screening at the Frontline Club on the 19th July 2013

This film had to be taken off all websites for our protagonists' safety as a result of some unexpected news. Please click here for more information

---


Miles Apart is an observational documentary, intimately looking at the clash
of different generations and cultures in a rapidly changing China.

Twelve years ago, Laomao and his wife Meizi left their two children in the countryside
to build a business 600 miles away. When they are joined by their daughter Ying Ying,
it becomes immediately obvious that she doesn't share her parents' work ethic.
Meizi's frustration is raw as she pushes her daughter towards employment and
at the same time, her son Lei Lei won't apply himself to his studies.

The separation of Chinese families by migration is a story shared by a quarter of rural parents,
most of whom can relate to the frustrations of working hard for seemingly ungrateful children.

dir/prod/camera: Ling Lee, associate producer: Liu Fan, editor: Adam Thomas,
composer: Lennert Busch, sound design: Jay Price, sound recordist: Kyle Pickford,
production manager: Elisabeth Schusser

language: Chinese mandarin, Anhui dialect with English subtitles.

Festivals: DokumentArt, Germany 2011. Freezone Human Rights Festival Belgrade 2011.
Aldeburgh Documentary Festival 2011.

Awards: One World Media Awards 2011, Student Category
"Miles Apart is made with maturity and confidence and stood out above the other entries because it feels like a film, rather than a documentary. The lack of commentary and style of shooting permits us to peer into the family life of three generations affected by the difficulties of rural migration."
One World Media Jury
clip of awards show

Peter Wintonick, filmmaker, DOCMEDIA etc
"...a beautiful and unusual kind social study... essentially a verite film with subtle overlayers of the disruptive forces of internal transmigration, angry youth, and urbanism all taking place in the villages and cities of the world's hottest growing economies but not ABOUT any of those things in any obvious way..."

---

... IN THE MIDDLE WITH YOU (Touring Autumn 2013- Autumn 2014) is an exciting, playful
and emotive live performance poetically combining dance, music and text.
The 5 male and female dancers present a snapshot of the ups and downs of everyday life.
The need to love, struggle, survive, stop, lose, fear and fall, the endless commitment
to face the surreal, impossible and mundane reality. We share real life stories of distress
and delight that will rattle, move, tickle and tempt you into a newfound space of possibilities
where simply existing might be all that you were ever looking for.

more info: www.hagityakira.com

dir / prod / camera / edit: Ling Lee, choreographer: Hagit Yakira, composer: David Leahy,
performers: Takeshi Matsumoto, Sophie Arstall, Mariana Camiloti, Ben Mcewen, Kiraly Saint Claire

commissioned by Greenwich Dance, Trinity Laban Conservative of Music & Dance,
Arts Council England, Independant Dance, Spin
---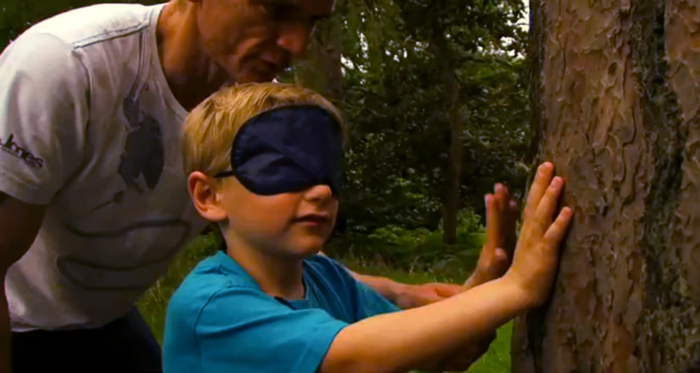 Growing the Social Role of Botanic Gardens

Communities in Nature is an innovative project initiated and coordinated by BGCI
(Botanic Gardens Conservation International) and funded by Calouste Gulbenkian Foundation.
The idea for this project was inspired by a groundbreaking research report into the social role
and relevance of UK botanic Gardens conducted by the Research Centre for Museums and Galleries,
University of Leicester.

There are four main Botanic Gardens around the UK that are directly involved in this project: Westonbirt, the National Arboretum, the University of Leicester Botanic Garden, Royal Botanic Garden Edinburgh and Bristol Zoo Gardens.

The four botanic gardens during 2012 run various plant related activities engaging their local
communities and audiences they have never worked with before. The four botanic gardens support
and learn from each other by sharing information and experience, engaging in problem solving
and discussing the progress of their projects.
There are other gardens like the one in the Geffrye Museum that took inspiration from this project.

Westonbirt - The National Arboretum: Hidden Voices (11 mins)
Bristol Zoo Gardens: Bristol Community Plant Collection (10 mins)
Royal Botanic Garden Edinburgh: Edible Gardening for All (6 mins)
Geffrye Museum: Creative Gardening for Older People (7,5 mins)

dir / camera / editor: Ling Lee, producer: Deborah May - Kinoki, sound recording: Kyle Pickford, Adam Thomas, sound editor & mix: Jay Price, composer: Lennert Busch

commissioned by Calouste Gulbankian Foundation UK



---

Up to 20 million tonnes of edible food waste is created each year in Britain.
There has been a research on how much food waste households produce but the government hasn't dared to look at the grotesquely disproportional food waste offences being committed by supermarkets every day.

The Freegans Alan & Alf in London and Chris & LeRoy in Edinburgh are looking behind the backs of the supermarkets whilst 'Edgar' the whistleblower is showing what happens inside the supermarket.

dir/prod/camera: Ling Lee, editor: Gideon Gold, composer: Geoff Hannan,
sound design: George Lingford, sound recordist: Raul Diaz

Awards: CineEco 2011 Environmental Education Award Ciencia Viva

---

This poetry documentary is inspired by Osip Mandelstam's poem
'What Shall I Do With This Body They Gave Me'.
It is about Ling's past memory of her lost dream to become a professional dancer.
She's trying to re-live her past in the present but circumstances bring me back to reality.

dir/prod: Ling Lee, DoP: Stil Williams, editor: Adam Thomas, composer: Lennert Busch,
sound design: Tudor Petre, sound recordist: Victoria Franzan

---

"Lo que me queda de Vos" is a short film reflecting the meaning of individual and collective freedom.
Lucia and her passions are shaped by her memories of her lost lover and by the footsteps of Tango
that characterise her home city of Buenos Aires.
The city provides an intimate setting where the story of two lovers can begin to flourish,
a metropolis that constantly reflects on itself in an attempt to resolve ancient conflicts of identity.

dir/prod/edit: Ling Lee, DoP: Martín Paz, music: La Camorra , double-bass player: Owen Macdonald,
sound designer: Pete Vilk, assistant director: Alejandra Esquerro,
art director/still-photographer: María José Galí, Voice recording: LA PIRADA

---

"the" and "when" floating somewhere through a landscape of noise and nothingness.
It drags us into a disturbed environment by evoking the uncomfortable feeling you have
when you are in between something, in between mind and curiosity.

dir/prod/camera/editor: Ling Lee, sound design: Michael Cullen (aka Mike Dred)

Festivals: BRITSPOTTING 2006, Berlin and Zurich. SOUNDINGS 2005, Edinburgh (live mix).
Exhibtions: X Space Exhibition Hubei Art Museum, China. in collaboration with Dachau Art Organization.

Online on Instant Cinema curated by Matt Hulse.

---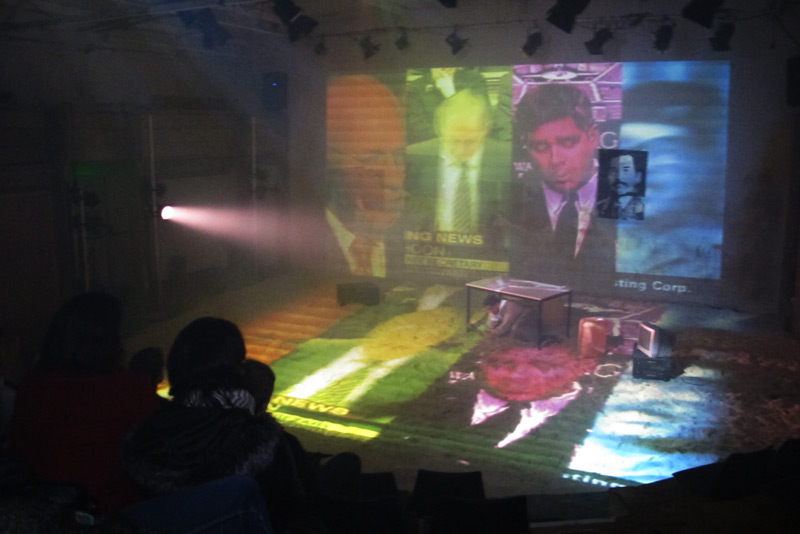 Saddam promised Unity… and delivered Collapse.

Bush promised Freedom… and delivered Chaos.

For a young Iraqi soldier, sent on an epic journey down the Tigris, all he has to deliver is Qudz –
an enigmatic militia leader – who promises to hold the answer to all the country's problems.

Merging Conrad's Heart of Darkness with astonishing first-hand accounts, 'Qudz' brings us up close and personal to the everyday lives of Iraqis: sometimes comic, often tragic and always absurd.
Blending drama, live music, film, animation and dance, Qudz captures the particular lunacy of living in a warzone.

Script & Direction: Tarek Iskander
Lighting: David W Kidd
Movement & Choreography: Maika Klaukien
Film & Video: Ling Lee
Stage Management: Daisy Marsh
Animation & Illustration: Paddy Molloy
Scenography: Miriam Nabarro
Sound & Composition: Marc Teitler

Cast: David Al­‐Fahmi, James El­‐Sharawy, Mariana Joseph, Tony Kandel, Sami Lamine, Moncef Mansur, Simon Nader, Lahcen Razzougui, Josephine Rogers, Glenn Speers
---
music: Auntie Flo
record launched in February 2011
shot on London Bricklane

participants: Karissa, Aylia, Cameron, Samira, Paige, Gizette, Maxwell, Aleksandra,
Pete, Aldi, Luigi, Skaka, Simon, Vingilio, Francesco, Carlo, Peter Choi

dir/prod/editor: Ling Lee, cinematography: Stil Williams, camera assistant: Neil O'Driscoll,
production assistants: Rosemarie Lerner Rizo Patron

record label: http://www.huntleyspalmers.com/
http://auntieflo.in

---

music: Cain

participants:Maria Panktukhova, Sarah Evans, Kate Jones

dir/prod/editor: Ling Lee, cinematography: Benjamin Jones

record label: Fine Grains http://soundcloud.com/cainsoundcloud

---

Published on Feb 20, 2014
H+P008: DrumTalk - Time
Available on 10" vinyl
Digital here: http://www.kompakt.fm/releases/time_10
Huntleys + Palmers 2014
http://huntleyspalmers.com

dir / camera / edit: Ling Lee, producer: Andrew Thomson, cover art work: Lewis Heriz

---

music: Auntie Flo feat. Esa
Taken from Future Rhythm Machine LP
Huntleys & Palmers 2012
http://www.huntleyspalmers.com/

participants: Brian D'Souza, Esa Williams, Karissa Hamilton-Bannis, Aylia Hamilton-Bannis, Sophia Anastasiou, Athena Anastasiou, Teamy, Sam Dickenson, Gillian Cook, Ally Turnbull, Kate Risker, Meibel Yamoah, Giorgia Scavo, Lucia Caletti, Arianna Cavallo, Hugo McFrotmason, Rob Faure Walker, Will Cavendish, Adam Kidane, Lars Eric-Roden, Sanjar Qiam, Dave Boyle, Dave Dawney, Tim Cook, "Narrowboat" Dave

dir/prod/editor: Ling Lee, prod: Andrew Thomson, cinematographer: Emma Dalesman,
Make up: Rosanna Gentile, Ally Turnbull and Gillian Cook, Costume: Isolated Heroes,
B Camera Operator: Shiraz Ksabia, Gaffer: Ben Barrett, Focus Puller: Will Hadley

Special thanks to Dan and all at Dalston Superstore and Benjamin Jones

---

music: Auntie Flo
Whole video shot through skype conversations from around the world

participants: Zai, Matt Quinn, Quincy, Neil O'Driscoll, Sam Dickinson, Diane Lim, Xandra, Charlie, Matthew Orr, Brian Harvey, Catriona & Ian Borland, Paddy & Katharine, Nadia Razak, Vicky Lee, Sebastian Abel, Merlin Bonning, Victor, Liu Fan + mum, Andrea Salvatori, Fraser, Derek & Judy & Luanne Thomas, Dylan Sakura, Andrea Harkin, Peter Mead, Siri Rodnes, Ludovica Fales, Tony Gilfoyle, Hollie Armstrong, Michael Collins, Kingy Hsu, Alejandro Paz, Esa Williams, Gemma Gregory, Daniel Zucco, Helen McGinley, Robert Glassford, Fabio Parmeggiani, Elaine Indoo, Nick Dudman

dir/prod/editor: Ling Lee

record label: http://www.huntleyspalmers.com/
http://auntieflo.in

---


music: Auntie Flo
dir/prod/camera/editor: Ling Lee, archive from youtube
record label: http://www.huntleyspalmers.com/
http://auntieflo.in

---

music: Bomb the Bass